There are many who love the ambiance and warmth of wood fires. Before you use the wood fireplace in your home, consider when it was last inspected and maintained. Was it prior to the holidays last year? Or perhaps it's been so long that you cannot recall.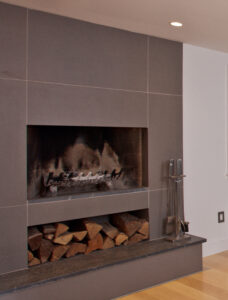 Chimney Safety
Get your fireplace in tip-top shape for the holidays and beyond. Your chimney should be inspected and cleaned once a year, and more often if your fireplace or wood stove is used frequently. Soot deposits and creosote can build up and cause a chimney fire. A clean chimney is safer and runs more efficiently. (Note: Gas and oil flues and chimneys don't require annual cleaning, but they should be inspected periodically.) Be sure that your chimney is also checked for cracks and broken bricks. A mason should go over it and do spot repair or regrout it. If you don't already have a chimney cap, it's a worthwhile investment as it protects from the elements and keeps debris and critters out. Our team can help with masonry and other repairs.
Time to Clean the Gutters
Full gutters and downspouts can lead to troublesome clogs, mold issues and worst of all, roofing issues that can be expensive to repair. Be proactive and have your gutters and downspouts cleaned well before the freezing temps or first snowfall. Schedule a gutter cleaning this fall to avoid potential problems.
Help with Exterior Home Maintenance
Our award-winning Hired Hands crew can help with many home maintenance and fix-it jobs, from chimney masonry and gutter cleaning to repairing decks, stairs and more. For home improvement and maintenance solutions, leave it to our expertly skilled and fully licensed professionals. Call 781-861-6400 or email us for an estimate.