Spring is here and whether your home's exterior is stained, painted, or has siding, one thing is for certain: New England's wild winter weather ensures that it will need some attention.
Looking to get rid of dirt and grime on your home's exterior? Consider power washing your home. An annual power washing, followed by paint touch-ups will extend the life of the previous paint job so you don't have to frequently repaint the entire house. This applies to regular clapboard as well as vinyl siding.**
If you find mildew on your home's exterior, you might be tempted to power wash it, but that will only get rid of it temporarily. Any mildew will come right back.
Moisture plays a key role in the growth of mold and mildew.
Notice any mold or mildew on your deck? Take heed, as mold can make the planks of the deck very slippery. Having a dirt foundation underneath the deck keeps everything wet, which creates an ideal environment for mold. A crushed stone layer underneath the deck will help to keep moisture in check.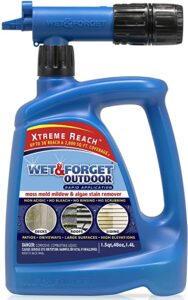 For simple algae/mold on the exterior of the house or on a fence, you could try a product called Wet & Forget Outdoor (be sure to check the bottle for application instructions, etc.). This product works slowly over time in combination with the weather and is an effective way to remove algae and mold stains.
If you've discovered mold inside your home on a basement wall, bedroom ceiling, in the attic, etc. – we recommend you consult a mold remediation professional. Mold is a fungus that just continues to grow and spread. It can pose serious health risks and has been linked to allergies, skin rashes, and more.
Mold or mildew that appears inside your home may be due to high humidity, a roof leak, plumbing leak, a flooded basement or another reason.
Whether mold and mildew appears on the exterior or interior of your home, don't wait.
A mold remediation professional can diagnose and resolve the problem.
Have questions? Give us a call 781-861-6400 or email us
**Safety note: Power washing is NOT a safe method if the home has lead-based paint. If you're unsure whether the paint contains lead, a professional inspection is recommended.