The foyer, also known as an entryway or vestibule, is the area at the front of the home as you walk in the front door. Essentially, it's that space that connects the home's entrance to the rest of the house. The foyer often serves as the home's first impression.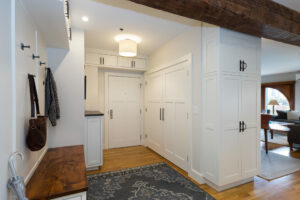 Hosts can welcome and greet their guests in this area. It's often a landing spot for keys, mail and shoes. The foyer sets the tone for the flow and overall feel of a home. What you choose to incorporate in this area often depends on the size of the space. When it comes to design elements, think of this space as you would a room in your home.
Design Elements
Console tables, functional benches or chairs, built-ins and storage closets are attractive design elements that complement a foyer. Built-ins and closets ensure that umbrellas, shoes, and other items are hidden away. For those with limited space, consider using a console table and top it with a small decorative tray or box to place keys and/or mail. Decorative elements in the space above the table could include framed artwork or a mirror.
Similar to a mudroom, a foyer is more common in colder regions and stately homes as it basically connects the outside to the inside. Foyers tend to be formal and purposeful in design.
In this blog, you can view images of foyers that our team has completed, including a condo foyer that offers ample storage. You can also see additional interior home projects in our Before/After gallery.
Considering a foyer "makeover"? We can assist you in creating a customized, handsome and welcoming space in your home.
Handyman Services
Our award-winning Hired Hands can help with many home updates, maintenance and fix-it jobs, from painting to carpentry and more. When you need interior home improvement or maintenance, leave it to our expertly skilled and fully licensed Hired Hands professionals.
Call 781-861-6400 or email us today.

Proud recipient of a new HOUZZ badge, the 2023 Best of Houzz Design!