MORE Anti-Etch is a Marble Miracle
Blog by: Melissa Bunis, Owner of Boston Stone Restoration, our premiere stone restoration vendor. They are located in Foxborough, MA.
Open any design magazine these days, and you are bound to see a variety of white marble used in most kitchens and bathrooms on the pages. The classic, clean look has become a staple in new home construction and renovation projects. Carrara, Statuario, and Danby are a few of the most popular marbles chosen for kitchen counters, bar tops, and vanities. These marbles are extremely soft and acid-sensitive, thus susceptible to staining and etch marks (water rings, etc.). Many cooking ingredients, vinegar, lemon juice, wine, and even coffee can acid-etch marble. Red wine, tomato sauce, and juice can leave dark pigment stains. Some towns have such a high mineral content in their water that just a glass that sits on the counter too long can leave a ring. And most kitchens have a large island that is the focus of the room, where the family gathers, and the entertaining is centered.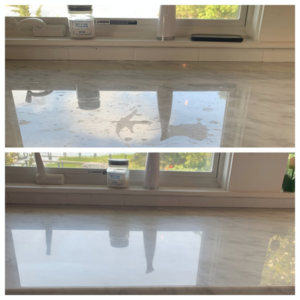 So, what is a designer or contractor to do?? Your client wants the look of natural stone and wants the worry-free features of granite or manufactured stone. Fortunately, at Boston Stone Restoration, we have a solution. For several years we have been working with specialty coatings, and we have found the one that we feel gives lasting protection without changing the look or the stone-like some plastic films that boast the same protection. MORE anti-etch coating is a micro-thin coating applied as a liquid, cures with a UV light, and then can be polished in a honed, satin, semi, or high gloss finish. The product has no odor while curing, and there is little or no downtime while installing.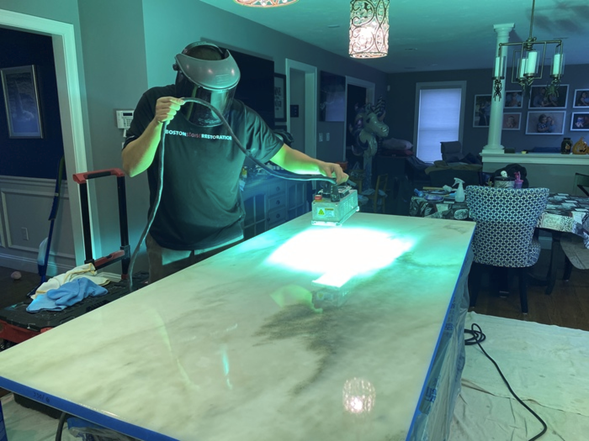 MORE Anti-Etch is perfect for kitchen counters, bar tops, marble dining tables, and bathroom vanities. It has a 10-year warranty against etching and staining.
Boston Stone Restoration has installed in luxury homes from Boston to Nantucket and at both the Ritz and the Four Season hotels. For more information and a complimentary estimate, contact Boston Stone Restoration at 781-793-0700.
For additional information about MORE Anti-Etch, read here: https://www.moresurfacecare.com/pages/more-antietch-anti-etch