Shown: Custom-built pet door in mudroom
At The Remodeling Company, some of our favorite and most "fetching" projects are pretty unique as they are built for beloved four-legged friends.
Over the years, we have custom-built pet doors in homes to accommodate dogs and cats of all sizes. A pet door enables a pet access to the great outdoors. In this way, pets are able to enter and exit the home on their own, which is very convenient for both pet and owner. For example, we recently created a pet door that led directly into a mudroom, which was the perfect spot for kitty to rest after a day outdoors.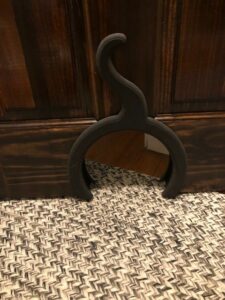 Pet doors may also be installed on interior doors of the home. In another instance, we created a pet door on an interior basement door for Mr. Leo, a cat that enjoys spending time in the basement. Now, Mr. Leo can access the main house via the pet door whenever he seeks food or attention. This eliminates having to leave the basement door ajar all the time.
Pet Wash Station
Oftentimes, our furry friends return from their outdoor adventures with wet or dirty coats and muddy paws. Whatever they've run through inevitably gets tracked inside. Pet wash stations are designed to keep not only your pet, but your home clean. A pet wash station is a low-lying, standalone shower which may be situated outdoors or indoors. An outdoor pet wash is usually very basic in set up, similar to an outdoor shower, yet scaled to size.
Indoor pet wash stations are more sophisticated and "spa-like" with beautiful tile and hand-held shower sprayer. Pet wash stations in mudrooms and laundry rooms are very popular as they do double duty when people return from gardening or exercise and need to rinse off or if muddy boots need to be cleaned.
Considering a pet door or a pet wash station? We can help. You can entrust our team at the Hired Hands division of The Remodeling Company.