Storage Galore! This recent kitchen renovation features a beautiful kitchen island full of shelves and drawers. But there's more… An entire wall of storage! Now there's a dedicated space for everything. Shall we say, it's "dream come true" organization!
Storage is often a key concern for many homeowners looking to remodel, expand and improve their space. In many of our new remodel projects as well as in a good portion of our handyman projects, we look for ways to incorporate plenty of storage. Whether we're updating or creating closet space, constructing built-ins with shelves and drawers, or creating window seats with under-seat storage – your options for ways to incorporate more storage in your home abound. Below are a few examples.
Reconfigure a space. Sometimes the layout of an older home simply no longer makes sense for the current generation. Perhaps there's a closet that is not only tiny and outdated, but situated in an odd spot in the home. In this instance, we may work with the homeowner to reconfigure the room and essentially "move" the closet to another area of the home altogether.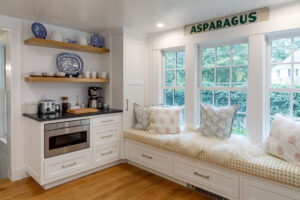 Seamless organization with built-Ins. Built-ins may be constructed just about anywhere in the home. The recent kitchen renovation, shown above, is a perfect example. The garage is also an area where space is often underutilized. Significant storage for organizing a wide range of items of all sizes can be created through perimeter shelving and cabinets along all the walls.
Make the most of existing space. An attic provides significant space to store items. It's also a good alternative for homeowners with basements that have moisture issues and/or require a sump pump.
However, some homes lack a finished attic. A crawl space in the ceiling may be the only access to attic. Not only that, oftentimes this space lacks a floor. The solution? Finish the attic with flooring as well as pull-down stair access. Essentially, this provides storage space across the length of the home.
Handyman Services
Longing for more storage? For projects where remodeling is not needed, our expertly skilled and fully licensed handyman professionals can help. Our Hired Hands division takes on small projects – such as creating aesthetically pleasing, built-in storage that will enhance and improve your living space.
Creating space and a place for everything in your home. Give us a call today! Be sure to check out our cosmetic reno video as well!