Today's pantries come in many forms. Walk-in pantries, which were "a staple" of older colonial homes back in the day, are making a comeback. Some have a dedicated area for food storage along with a prep area and sink.  Other more modern pantries may be similar to a walk-in closet with well-organized shelves and drawers accommodating dry goods but no sink or counter. One of the major draws to having a pantry is better organization. From pantry drawers with dedicated compartments to custom shelving and more. There is a place for every item, which is a dream come true when it comes to maintaining organization.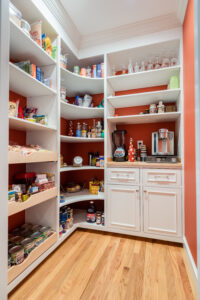 If you're looking to increase the functionality of your space, The Remodeling Company can help. For example, a seldom used closet or small room may be repurposed into an area that will be put to good use. For example, we recently completed a project in an older home where we built a pantry from the closet adjacent to the kitchen.
In another remodeling project, we created a stunning butler's pantry complete with a wine and beverage area. Statement features for the wine and beverage area included custom built-ins, stone countertops, upscale fixtures and more. View our website portfolio for this "butler's delight" as well as other kitchen renovation projects.
Beyond the Pantry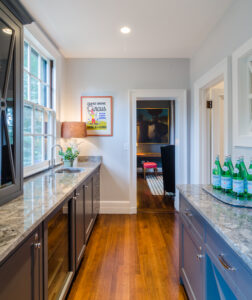 Have a space in your home that you know could be so much more? The Remodeling Company can help repurpose your basement, garage or other underutilized room into a home office, living quarters for extended family, yoga studio, fitness center, billiards room, walk-in closet or any other concept you have in mind.
Whether updating a small space or adding to your home's footprint, we can help. Contact us today for a consultation.