The home bar has come a long way since the "basement bars" of the 1970's where gatherings were held in the shag-carpeted, finished basement of the home.
Today's wine and beverage bars are truly sophisticated and can transform a room. Whether you're looking to add a home bar as the focal point of your room or keep it subtle and in the background, your choices abound. Wine and beverage bars can be customized to any size space and may be found in kitchens and dining rooms, living rooms, game rooms and beyond.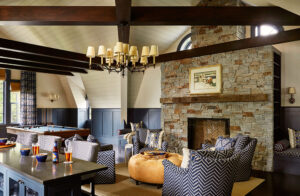 One of the recent home remodeling projects we completed featured several focal points in one space: a wine and beverage bar with seating; a fireside lounge area; and a game area.  In another remodeling project, we created a stunning butler's pantry complete with a wine and beverage area.
Statement features for your wine and beverage area may include custom built-ins, stone countertops, upscale fixtures and more. Perhaps you'd like a wine and beverage bar with open-concept wine shelving that runs the length of the room above a marble bar with built-ins below. Or, a full granite top bar with seating for wine tastings. Or, maybe your style is more along the lines of graceful wine and stemware racks above a hidden wine cooler in a recessed space.
There are endless possibilities and you should incorporate elements that reflect your particular style. We'll work with you to build your wine and beverage bar – or any space in your home – so that it is tailored to fit your needs, desires and aesthetic tastes.